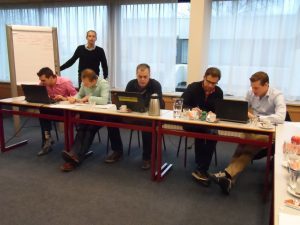 Sustainable Golf Course Management (DGB) started in 2005 as an initiative of Maarten van Ede (former board member jobs of the NGF) inspired by the sustainable management model of a group of Danish greenkeepers. The idea was to introduce sustainable management in the Netherlands as well, with the aim of making the management of golf courses future-proof. From 2006 to 2012, a first Dutch collective of greenkeepers was active in monitoring the maintenance of greens according to the self-developed standard (protocol).
The project was supported by the Dutch Golf Federation. The Sports Turf and Research Institute (STRI) conducted an annual analysis of the collected data. The activities are supported by the company Barenbrug (Great in Grass).
Currently, the project has entered a new phase. The methodology of entering data has been improved and made more user-friendly by applying an input APP. This saves time and reduces the chance of incorrect registrations. Work is also being done to improve the provision of information for users. A management report will soon be available for track commissioner and board who retrieve data from the database but also from various other systems such as EMS, IntoGolf and Proware. This provides insight into the ins and outs of the club. It is planned to produce a report in the course of the year that provides insight into integrated pest management (IPM). Of course, everything depends on the fact that data is recorded.
A new group has been started since the beginning of 2014. In addition to the usual meetings in which extensive knowledge is increased, they have started collecting data from greens with the aim of making management more sustainable. Only through a good understanding of the activities and resources used can one make sustainable choices. Based on this, experiences and insights are shared so that improvement programs can be set up. Successes and problems can be analyzed by professional advisors using the data and graphs provide insight into results. Participants have their own page that is protected by a password. From this page one can also access the database. Furthermore, a dashboard that unlocks the information is part of the system.
If this appeals to you, we invite you to give substance to sustainable management on your golf course in this way and also to become a member of DGBeheer.
Here is our brochure (spring 2016)